ABOUT THE ARTIST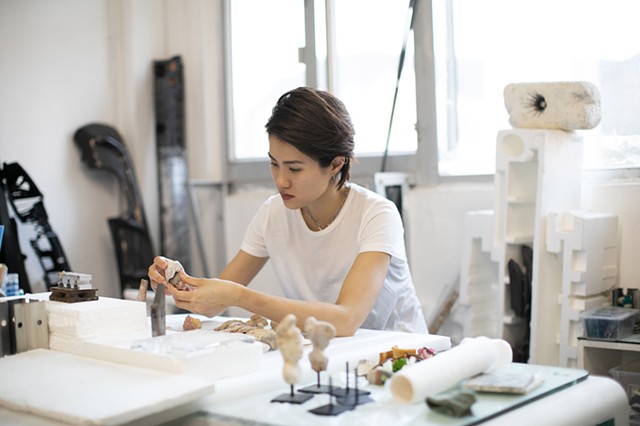 Leelee Chan's sculptures reflect her experience with the extreme urbanisation in Hong Kong and are almost always comprised of dumpster detritus household ephemera, and mundane objects from her daily life not generally considered memorable or worth preserving. Derived from an impulse to interrogate these objects' status and value, Chan imaginatively explores their transformative potential and reconfigures each item according to its unique quality. She purposefully integrates these objects with natural and industrial elements such as mother of pearl tiles and seashells, artificial plants and greenery, asphalt and rocks, while preserving each material's open dignity. Her sculptures evoke Modernist architecture and anthropomorphic shapes embedded with playful and meticulous details that slowly unfold upon close inspection. Chan's process-based approach embraces unexpected forms that generate a new living entity driven by their own internal logic — poetic, idiosyncratic, and universally intimate.
Leelee Chan was born in 1984 in Hong Kong. She received her MFA in painting from the Rhode Island School of Design (RISD) in 2009 and her BFA from the School of Art Institute of Chicago in 2006. She currently lives and works in Hong Kong. Her work was exhibited internationally including Tai Kwun Contemporary (Hong Kong), Ullens Center for Contemporary Arts Dunes (Qinhuangdao, China), Capsule Shanghai (Shanghai, China), Downs and Ross (New York, USA), Blindspot Gallery (Hong Kong), Mine Project (Hong Kong), Neptune (Hong Kong), Artemis Project Space (York, UK), The Dorado Project (New Jersey, USA), Flux Factory (New York, USA), Parallel Art Space (New York, USA), Sol Koffler Gallery (Providence, USA). Her work has been covered by Frieze, Artforum, Mousse Magazine, South China Morning Post, Art Asia Pacific, the Financial Times, Cotonoha, and Ocula.
Her work is featured in the collection of M+ Museum, Hong Kong and in the JPMorgan Chase Art Collection.
Photo credit: Janelle Chiang